Service Management (CMMS) System Features
Welcome to our CMMS features page - below is a list of some amazing features that will help you be in control of your trades business
Field Service Management Features
---
Our CMMS System allows you to manage your jobs with ease. Stop practising out-dated techniques with excel and massive pivot tables. Using Eworks allows you to automate your processes and become more efficient. Never lose sight of another job.
Planning and Monitoring Features
---
MONITOR THE PROGRESS OF JOBS IN REAL TIME. Planning jobs is an art, you have good planners and poor administrators that just process requests. Using Eworks you can plan more efficiently with job locations, job types, field engineer skills and product costs taken into account.
Communications & Sales
---
Keeping track of all your staff and the communication with your customers is impossible unless you have Eworks. Track calls, emails, tasks, notes and complaints. We have many features in our sales system which allows you to keep a hand on building your business. Whether you have a sales team / department or just yourself - these features will help you convert more sales.
Finance Features
---
Making sure all the figures add up - With many finance integrations you will be in safe hands using Eworks Manager.
System Support and Training
---
We are here to support you...
Support

We offer continuous support to all existing and potential customers! With our friendly team of industry experts, we offer phone support through the week, an online ticketing system and 24 hour email support.
Training

We offer online training for all of our customers, including in our pricing packages, whether you are just starting out, need a recap, are adding new features, or have a new staff member joining! We offer other training to maximise the value you receive from our software, for more information, get in touch!
Help Videos

Our training video library contains videos which explain each feature on the Eworks system, which is handy for quick training needs, refreshers and new starters!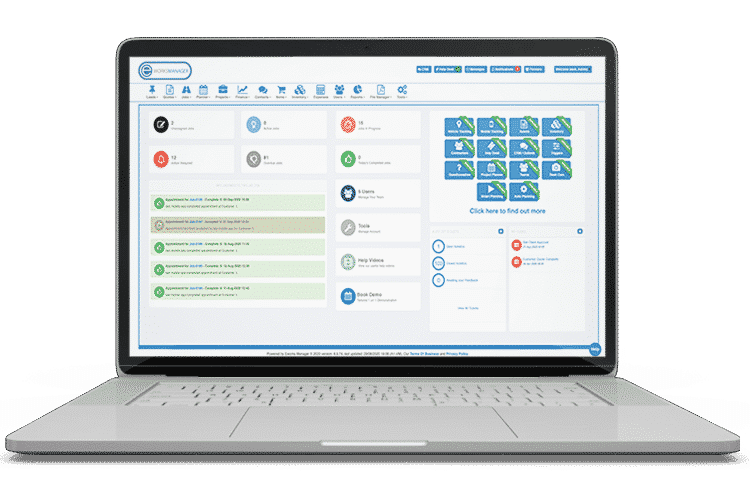 All in One Management & Planning System for
Total Control
---
Our CMMS system allows you to keep control of your WHOLE business in one place.
---
Our CMMS system gives your leaders the control they need over sales, planning, completing jobs and projects, purchasing, assets, inventory, invoicing and your workforce - Read more below about our fantastic features.