Have Full Control of Every Job - Visually and Physically. Never Lose a Job or Work Order Again. For a 14-Day Free Trial, click here!
Job Management System - CMMS Work Order System Built to Streamline Your Workflow
An Electronic Work Order System designed to help you easily and efficiently manage your job flow processes and field staff.
Our system helps you manage your workload in one system, including leads, quotes, jobs, invoices, and the list goes on!
Create tasks or jobs and set appointments for your field workers and keep track of everything with real-time updates. Eworks Manager has developed a system for field service and trades businesses always on the go.
Managing your team has never been simpler or more controlled. Our system includes everything you need to manage your workload efficiently, monitor workers, and boost productivity. We also provide a range of features that improve communications between you and your workforce, your customers and suppliers, and even contractors. Our Mobile App is entirely built for workers in the field, with the efficiency of having an Electronic Work Order System in the palm of your hand.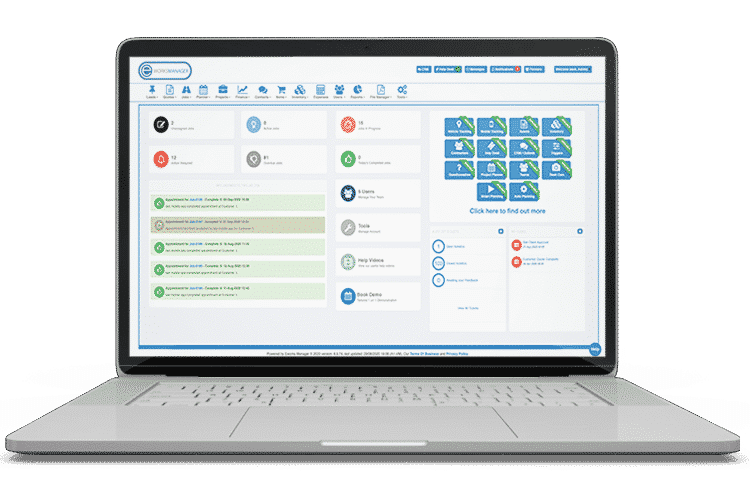 Plan and Schedule Jobs in Advance
Create jobs and assign your tradies to each job in the Admin System. Our Time Planner lets you allocate each job or appointments with a simple drag-and-drop method. You can add appointments for your employees by viewing their diaries. Field workers can accept the appointment and then change the status of their jobs using the Mobile App. You can also create recurring jobs by setting re-occurrence rules against a job. The system will track each worker's time-on-site, including travel time, to create accurate quotes.
Planning jobs in advance is efficient and saves time, especially when staff diaries are automatically synced to their mobiles via the app.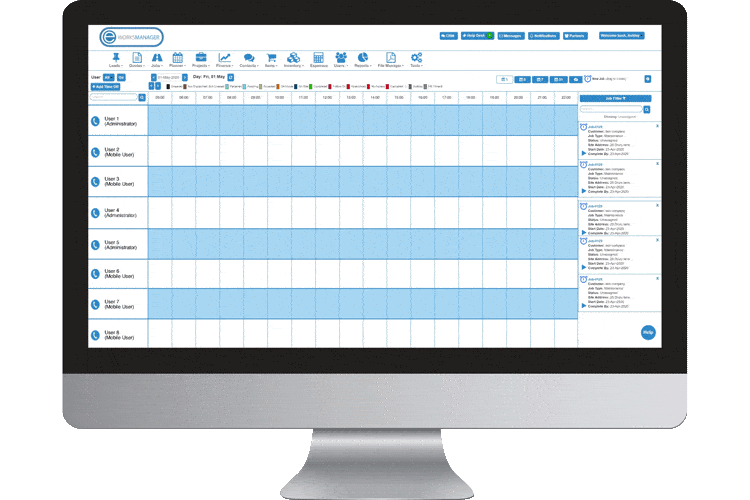 Get Real-Time Updates from our Live Panel
Our Live Panel displays a live feed of the progress your teams are making with their jobs. When appointments are completed, put on hold, or handed back to the office, our Live Panel helps your administrators make fast and efficient decisions responses received. Our integrated CMMS Work Order Tracking System ensures you always know what is happening with your jobs and work orders. This ensures the designated admin staff can authorise jobs and send them for invoicing immediately.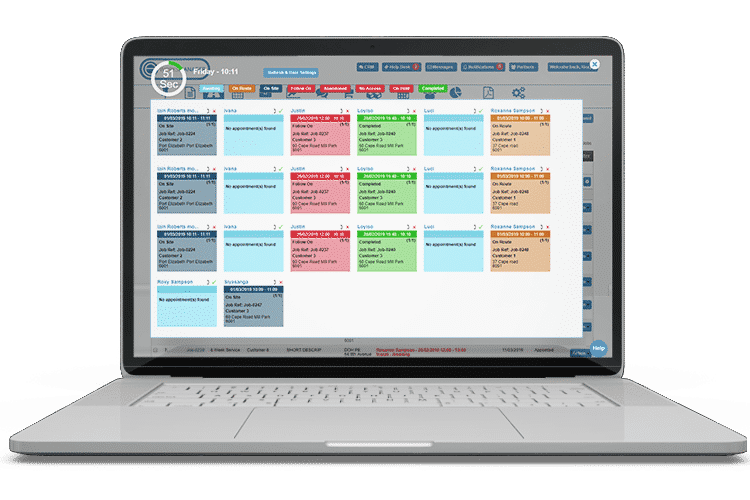 Get Jobs Approved while On-Site
Tradies can get approval on their completed jobs directly from their mobile device while still on-site. We offer various approval methods for field workers to make use of.
Our Signature Approval method lets customers sign off completed jobs. The Audio Approval method records up to 10 seconds of audio, where the customer can approve the job verbally. Our SMS and Email Approval functions will send a link for the customer to click on and approve the completed job.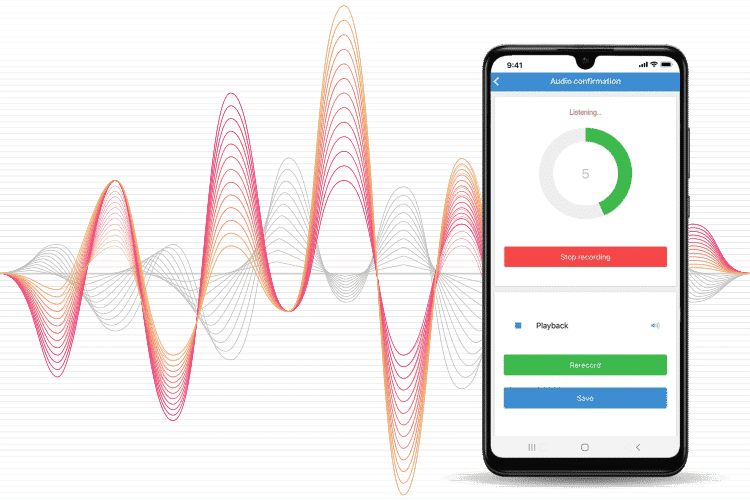 Full Business Reporting
With our comprehensive management reports, you can see exactly who your most productive workers are and who brings in the most profit. Comprehensive reports can be generated, including Job Summary, Invoice Summary, User Time-Sheets, and more.
Our system integrates with leading accounting packages such as Xero, Sage and QuickBooks so that no information is ever duplicated or lost. Our export function allows you to export the critical information needed for your accountant or bookkeeper to stay on top of things.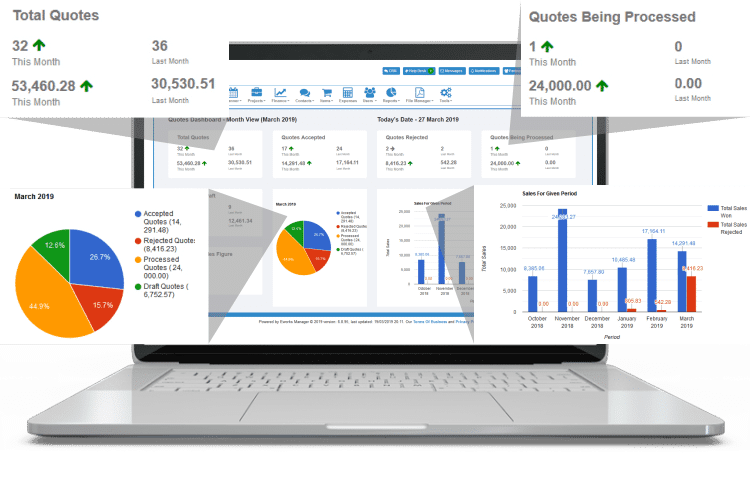 Track Your Technicians in the Field
Our software offers both Vehicle Tracking and Live Mobile Tracking. These tracking features allow you to view your technicians' live location and receive automatic updates of their appointments.
Vehicle Tracking Software offers various beneficial Fleet Management features, enabling you to keep track of driving behaviour, mileage, journeys, and more.
Our Live Mobile Tracking monitors your tradies devices while out in the field. You can identify which site your workers are at and view the time they spend on-site. This allows you to quickly see who the closest worker is when a reactive job comes in.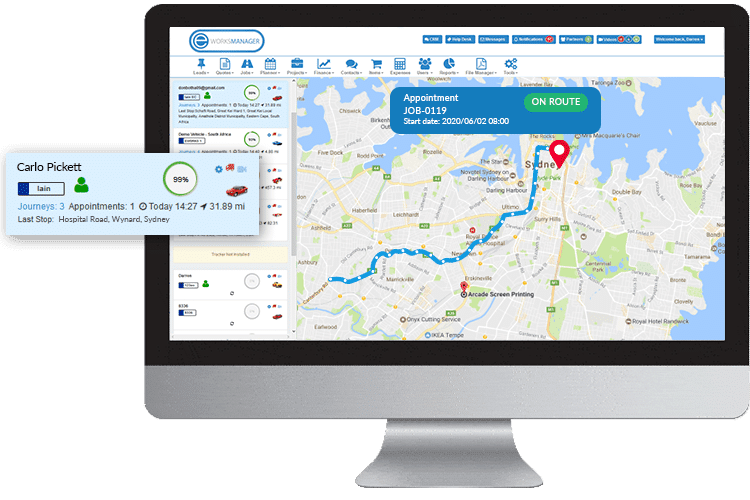 Complete digital documents and certificates on your mobile
EEworks Manager can digitise any of your documents, including compliance certificates. Our Mobile App gives you access to digital versions of your documents and certificates, so you don't need to worry about completing paperwork on-site. These mobile documents are stored within our cloud-based software, so you never lose your records.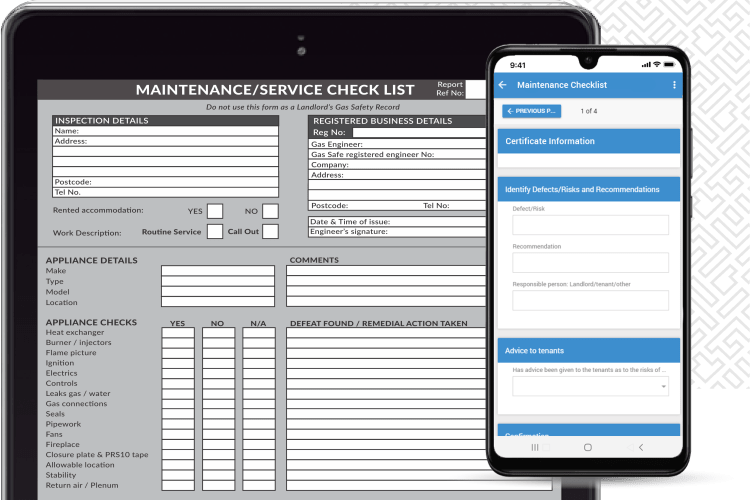 The Complete Business System
Take a look at some of our other great features that would benefit your business.
Job Management Software FAQs
1What is Job Management Software?
A complete Job Management System ensures you create, manage and track your jobs as efficiently as possible. Having all your information in one system improves transparency and creates a streamlined process for authorising jobs and sending them out for invoicing.
The system works in conjunction with the Eworks Manager Mobile App, which means that every action taken on the app automatically reflects on the admin system, ensuring admin staff can immediately rectify issues that may arise.
2How will a Job Management Software fit my business
Many businesses are stuck in the past, with heaps of paperwork filling their desks and haven't considered switching over to a system simply because they do not trust technology to do the work for them.
When you choose a powerful Electronic Work Order System like Eworks Manager, you choose a structured package that transforms the way you do business. We have helped many companies achieve much higher productivity and profitability, as well as eliminating paperwork.
3How does a CMMS Work Order System improve my business profitability?
With a good CMMS Work Order System, you will see a vast improvement in staff productivity, which helps increase profitability and overall customer satisfaction. The system will also provide accountability for time allocation, discouraging your team from spending time on non-work-related tasks. Our system eliminates time spent on paperwork, which is also a massive benefit!