IT Job Management Software that aids in the management of tasks and demands for maintenance. For a 14-Day Free Trial, click here!
IT Job Management Software - An Online Platform Specifically Designed to Assist the IT Industry in Managing Their Jobs
How does Eworks Manager's award-winning IT Field Service Software benefit your IT company?
We know how important keeping track of everything is because we too are an IT organisation. It's crucial to establish open lines of communication within the workplace, particularly if you have employees who work outside the office. Eworks Manager will assist you and your staff in keeping track of which jobs are most critical based on their deadlines. This guarantees that everything goes well and that all deadlines are reached on time. All work entered into the system can be accessed by any users who also use the system; a worker can then accept a job and adjust its status on the system. This updates the other users on the status of the work.
Create tickets and maintain them until completed
Using Eworks Manager's Help Desk Software, managing client inquiries is even simpler. Create, handle, and monitor all of your tickets in one place to stay on top of any problems.
To build a ticket, your staff or customer should choose the category of the problem, the problem's cause, a summary of the problem, and an attachment if necessary.
Tickets will cut reaction times in half, meaning that your clients are always happy with your service.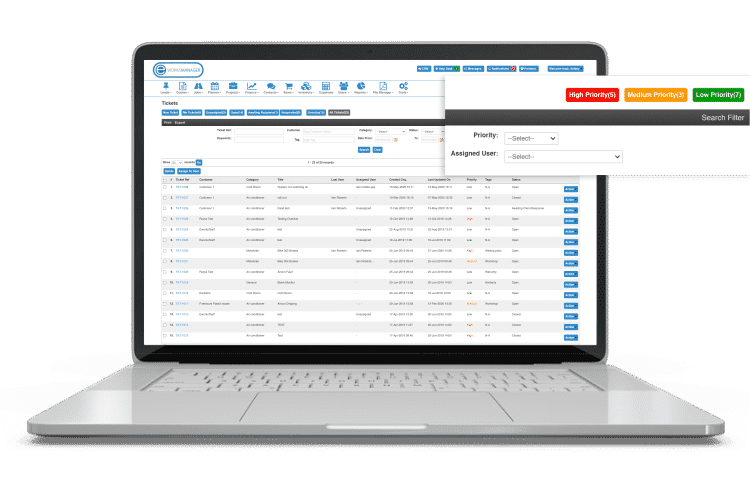 Plan jobs Efficiently
We provide a number of planners that can be used to delegate unassigned work to available staff. Check who's available and, using our drag-and-drop feature, add the work to your employee's schedule. Our Staff Scheduling Software will update the technicians' schedules on the Mobile App instantly after being saved.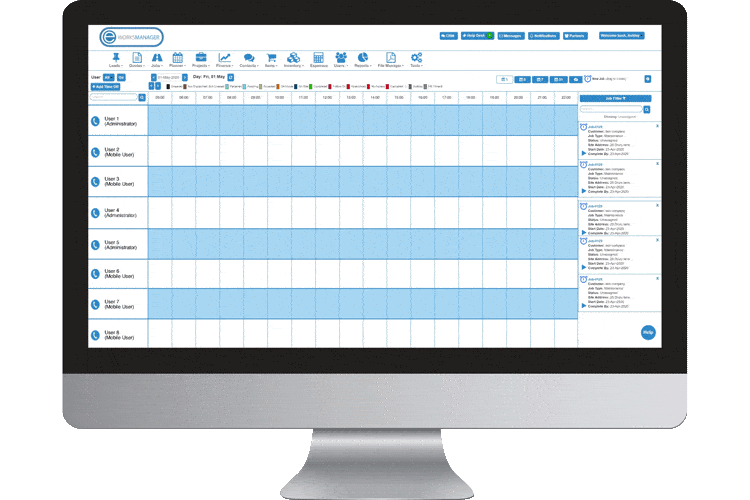 Keep track of your technicians in the field with our Live Mobile or Vehicle Tracking
Vehicle tracking and live mobile tracking are available via Eworks Manager. Both features allow you to see where technicians are in real-time and get automatic work alerts.
Vehicle Tracking also has Fleet Management advantages, enabling you to stay up to date on driving behaviour updates, journey reports, mileage, and other details.
When your workers are in the field, our Live Mobile Tracking feature keeps track of their devices. You will see which site your employees are at and how long they've been there. You can also keep track of who is closest to any emergency jobs that come in.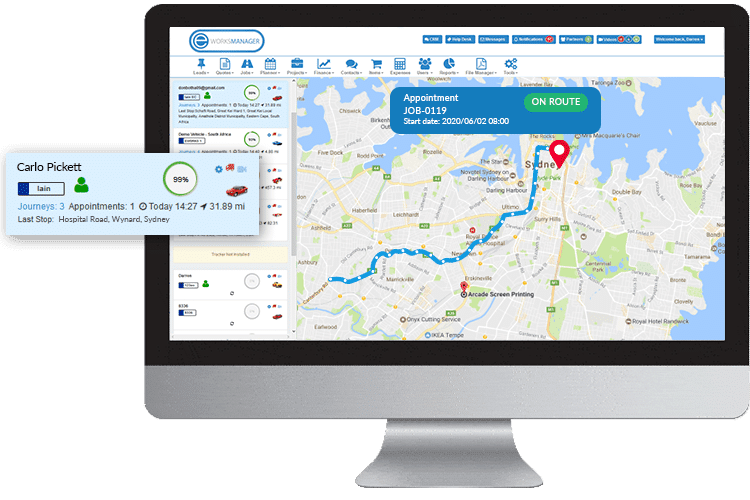 Invoice on-site or in the office
Create invoices from the Admin System or the Mobile App when on the move. Customise your invoices to match the look and feel of your company. Manage the past-due invoices and set different payment conditions for different customers.
For your ease, Eworks Manager integrates with Sage, QuickBooks, and Xero business applications. You may also export your invoices to accountants or bookkeepers using our system.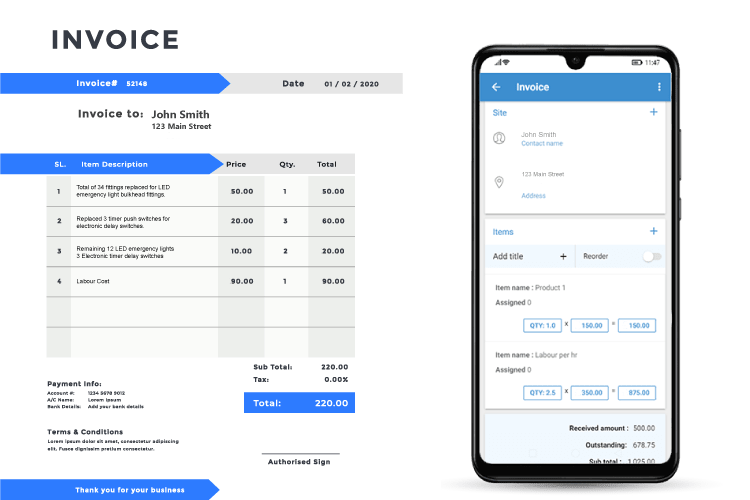 IT Field Service Management Software FAQs
1How will IT Service Management Software benefit me as an IT Manager?
As the boss, you have a variety of duties to complete in order to keep your company running smoothly. Every part of your company will be streamlined with our
IT Job Management Software
. From sending out quotations to assigning tasks, monitoring your mobile technicians, and invoicing, the app has it all. Our management system is designed for the service sector and can be accessed via our Mobile App from any mobile device.
2What can I do with IT Maintenance Software?
From the system or app, create jobs or
job sheets
. Workers may be assigned to projects or multi-trade jobs. An interactive whiteboard in our
Workforce Planning Software
helps you to see all of your scheduled workers.
3Does IT Business Management Software improve efficiency?
Eworks Manager's Field Service Management Software was designed to improve the productivity of your whole company for both you and your entire staff. One of our system's most useful plugins is for going paperless in your company. The system is accessible through two methods: the Admin System, which is used for your administrators, and the Mobile App, optimised for your field employees. Field staff can use the software to record tasks, submit quotations, and more. They will spend more time concentrating on their current task because everything is stored in one app.
4How will IT Maintenance Software benefit my workers?
Your field employees will be able to spend less time on paperwork and more time on their work. Our mobile app eliminates paperwork from the field and automates timekeeping while providing real-time job status updates to the office.
5Can I monitor my field technicians?