Use Our Cloud Based Scheduling Software to Schedule Your Staff Automatically. For a 14-Day Free Trial, click here!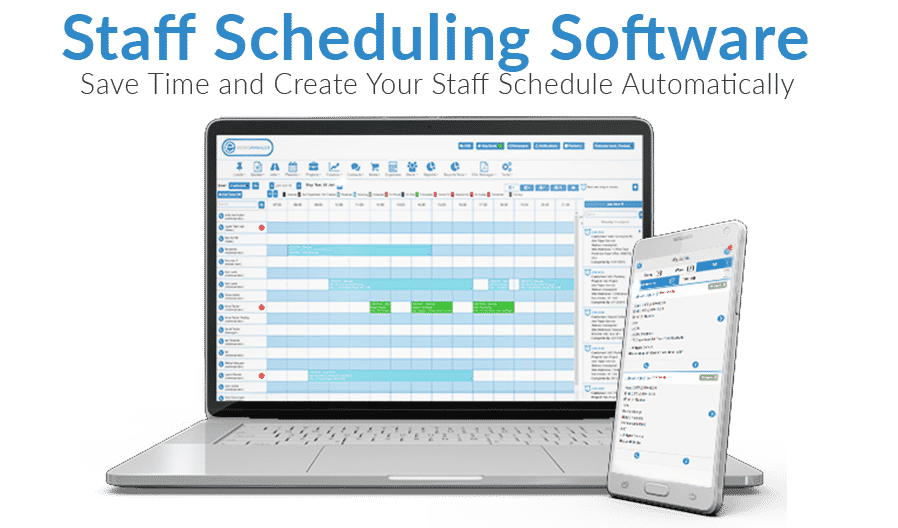 Staff Scheduling Software
Manage Multiple Schedules
With Eworks Manager, you and your staff with access to the admin system can schedule jobs on the go. This includes appointments, meetings, holidays or sick leave. By scheduling jobs for your workforce, your calendar automatically alerts your field team of any future work. The Time Planner also gives a visual representation of everyone's schedule of work for the day, week or month. The search filters on the planner lets you search for specific jobs by entering date ranges, job types, statuses etc. You can view all appointments against those jobs and plan accordingly.
Planning Error and Conflict Free Work
The Time Planner lets you slot in unassigned jobs to available workers. See who's available and then slot it into your worker's calendar, using our drag and drop method. Once saved, our Staff Scheduling Software will automatically sync the new job to your field worker's Mobile App. If you assign a job to a worker that already has a job for that time, the system will raise a conflict notification. With these Real Time Alerts, you can easily drag, drop and schedule a new job into the workers calendar.
Colour-Coded Calendar
On the Time Planner, each status of a job has a different colour. This means that with a quick view, you can see where your workers are, the progress of ongoing jobs and if a job has been cancelled or put on hold. Our colour-coded blocks are updated in real-time, so when your field workers select a status on the Mobile App, the colour of the block will change immediately.
Sync Your Work Calendar and Take it Everywhere You Go
Workers using the Mobile App can sync their work schedules with their mobile calendar. By doing this, they can easily see what work has been allocated to them for the month. Information pulled from the job scheduler to the calendar includes the job number, the time, the customer with address details and the current status of the appointment. Field workers can take their job schedule with them wherever they go.
---
Automate Jobs
Automate your jobs to maintain performance
Attach files
Add specific files and images so they can be viewed for specific jobs
Appointment Times
All time is tracked for jobs and the users
Plan schedules
Planning your projects allows you to schedule your workforce in advance