Locate All Your Workers on a Map in Real Time and Schedule Jobs Based on Location. For a 14-Day Free Trial, click here!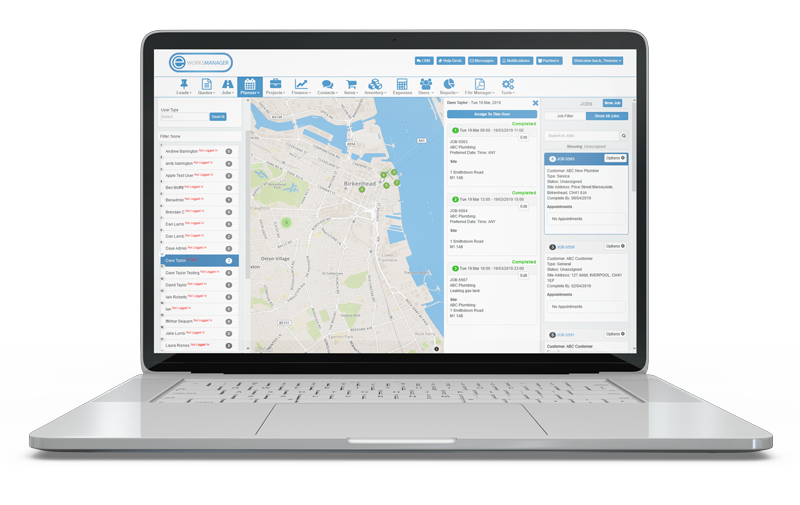 Planning Software
If you manage your own private business, you will know the strain of unending paperwork or a whiteboard in the office. Organizing your jobs this way can be confusing, tedious, and unnecessary. Eworks Manager has helped companies go paperless and simplify their admin processes, particularly with our Planning Software.
Geo Planner
Our Geo Planner map view lets you see live location pins of your workforce out on the job. This way, when your office receives a new job, your office staff can quickly assign the closest available worker to that job. The Geo Planner shows you each workers' jobs for the day, which makes planning your jobs more efficient and economical. Save fuel costs and time, because your workers will complete jobs that are close by to their last appointment.
Mobile Tracking
Our Live Mobile Tracking solution allows you to plan jobs and assign the closest worker to a new job with the live map view. The search fields on the map enable you to search for a specific address, which will show you whom the nearest worker is to a given job. The map view displays the field worker's journey to each job. This means that if they happen to be travelling to a job and an emergency job comes in, the tradie can put their current job on hold and tend to the emergency job quickly. The Mobile Tracking Map also displays the worker's battery percentage for their device. This ensures that the office knows why a worker may not be accepting a job on the mobile App. From this, they can then quickly assign another available field worker.
Vehicle Tracking
Eworks Vehicle Tracking features as a planning software tool. The map view displays a live location of vans out in the field. This allows you to schedule jobs to the closest available mobile engineer. You can also see all appointments booked out for the day for a specific worker and shows if they have an open time slot to do another job. The various search options will also let you search a specific postcode, showing you a pin drop of the location and the closest worker to it. View all unassigned jobs and very easily assign them to your available mobile workers.
---
Find Closest Person
Click one button and find your nearest operative
Locate all workers
We track all activity on our App
Plan Future Jobs
See future appointments and plan for efficiency
Contractors
Store all your contractors on a map and send them local jobs