Security Management Software that assists in managing security installations and track your technicians. For a 14-Day Free Trial, click here!
Security Software Programs - Field Service & Job Management Software for the Security industry
How can Eworks Manager's Security Software Programs help your business in the Security & CCTV field?
When working with security CCTV cameras, alarms and other security systems, it is crucial that all systems are fully operational and maintained regularly. Keeping a maintenance schedule can be difficult, especially when you have numerous customers and a team to manage.
Managing your tradies, quotes, jobs, invoices, and assets can be an intimidating task. Having all of this captured in a single, simple to use Security Management Software can ease the pressure. With automated processes, our system removes most of the grunt work that goes into managing a business.
Interested? Click here to learn more about how Job Management System can help your security company.
Schedule and track job progress with our range of planners
The Time Planner is easily the best feature to distribute jobs to available workers when using the Eworks Manager Staff Scheduling Software. You can see who is available and slot the job into your tradies' diaries with our drag and drop function. Once saved, our Security Scheduling Software will automatically sync updates to your staff's mobile on the app.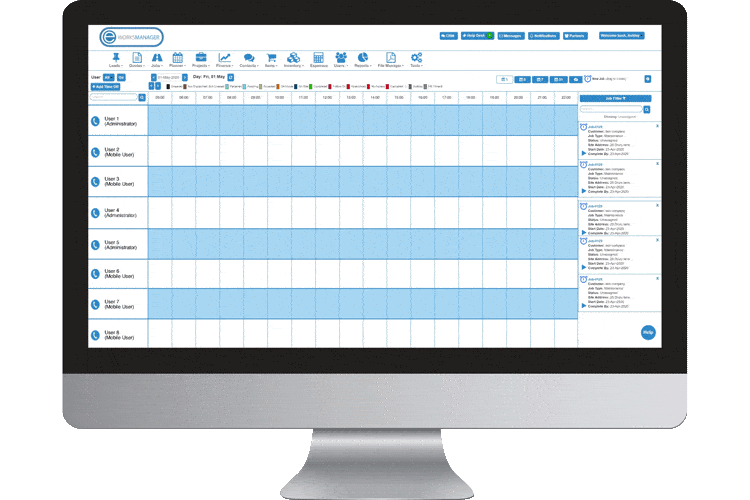 Asset Management Software
You can add cameras and security equipment as assets and keep track of preventative maintenance and any faults that have been found and rectified.
You can also generate, manage and maintain tasks and recurring jobs, invoices against equipment, recurring invoices and your arsenal of maintenance services.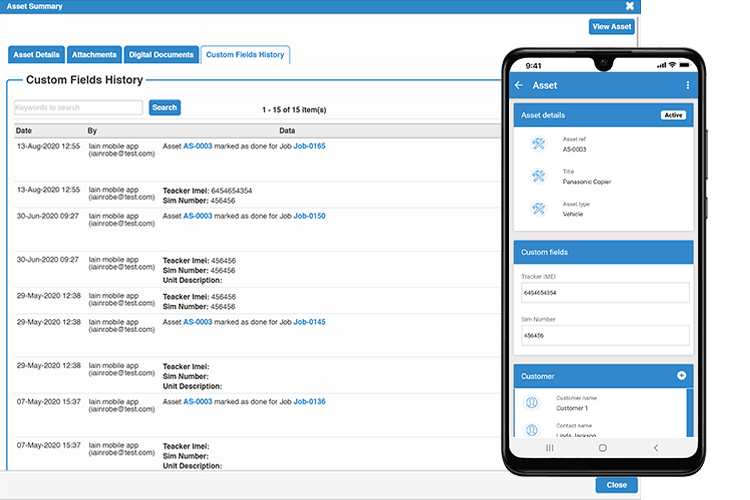 Quote on-site and convert accepted quotes to jobs
Create quotes for customers and print or send them directly. Our Mobile App allows you to create estimates on-site, speeding up the conversion process.
Accepted quotes can also be converted into jobs instantly, without losing any essential information.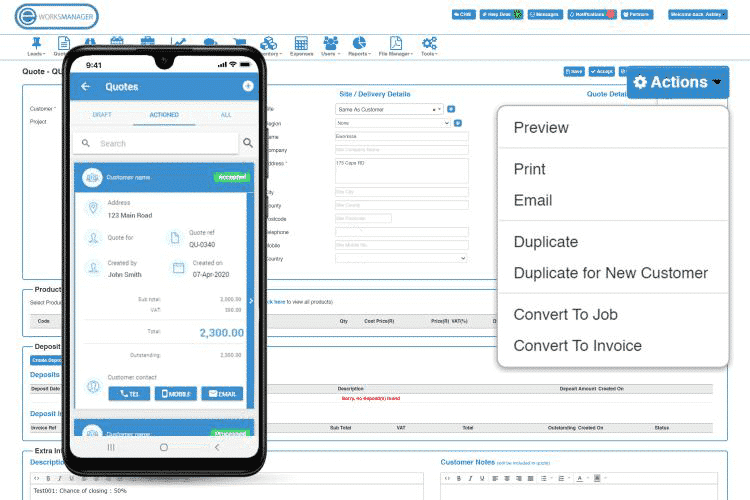 Keep track of leads
You can capture and manage information on prospective customers or opportunities.
You can import, manage, convert leads into estimates and convert leads into new customers using our Security Management Software. It is the most productive and effective way to handle prospective customers and opportunities!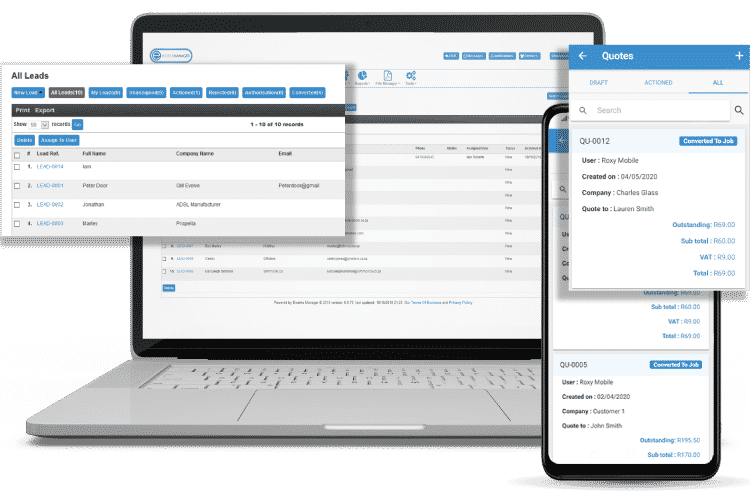 Security Software Programs FAQs
1How will Security Risk Management Software benefit me as a Business Owner?
Our
Security Software Programs
will streamline every aspect of your business. The software includes everything from sending estimates to allocating jobs, tracking your field technicians, and invoicing. Our software is continuously updated for the service industry and accessed on any mobile device via our Mobile App.
2What can I do with Security Management Software?
Create jobs or
job sheets
directly from the Mobile App or Admin System, or add appointments to your projects or multiple trade jobs. The Eworks Manager
Workforce Planning Software
has a virtual whiteboard, allowing you to see all your diarised jobs.
3Does Field Service & Job Management Software improve efficiency?
Eworks Manager's Field Service & Job Management Software was moulded to enhance your entire business's efficiency. Our software aims to help your business take the plunge and go completely paperless. The software is available from your computer browser with our Admin System and smartphone or tablet using our Mobile App. The app enables field technicians to log jobs, create and send quotes, and so much more. With everything captured on the app, your workers can spend more time focusing on their work.
4How will Security Software Programs benefit my technicians?
Your field technicians will be able to spend more time doing work rather than paperwork. Our mobile app removes the tedious paperwork from the field and automates timekeeping while keeping the office updated on each job's status in real-time.
5Can I track my mobile workers' jobs in real-time?
Real-time
job tracking
gives you the capability to react to any issues instantly! With Eworks Manager, you always know precisely where your tradies are and quickly determine who is available for any re-active jobs.
6Can I monitor my field staff?