Create Questionnaires for Customers and Engineers to Fill Out on Site. For a 14-Day Free Trial, click here!
Field Service Questionnaire - Use the Questionnaire Feature to Guide Your Team and Get Feedback From Customers
Monitor Job Performance and Get Staff and Customer Feedback with the Questionnaire Feature.
Eworks Manager has formulated a fantastic Questionnaire feature on our Mobile App that allows your team to capture additional information from workers in the field. The Questionnaire Feature supports the management of your workforce and clients. You can set up questions about the work in progress on-site, ask specific questions for the team on the job, or ask your customers for feedback on your services!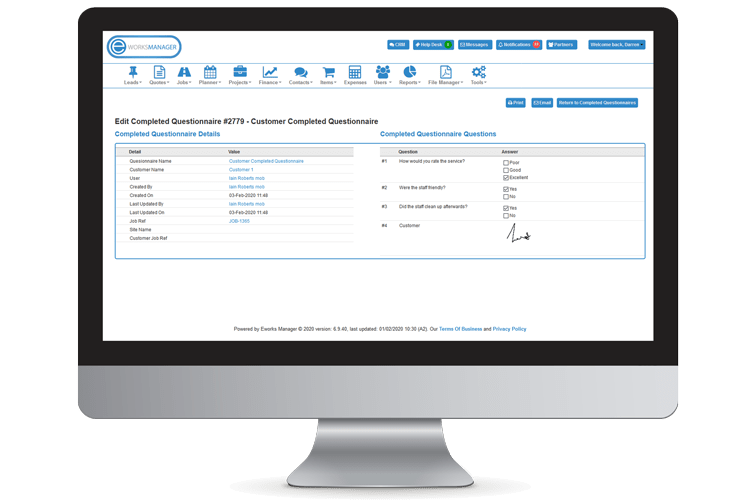 Create Service Questionnaires To Ensure Your Workers Follow Guidelines
Plan Questionnaires for your mobile users to fill in on-site. This feature can help to ensure that every technician follows the Health and Safety protocols daily. Your admin team can also use questionnaires to inform your field workers of further instructions on-site.
For example, the questionnaire could ask mobile workers if they are wearing protective equipment when they arrive on-site. The questionnaire feature is excellent for collecting additional information and feedback from each job, employee or client.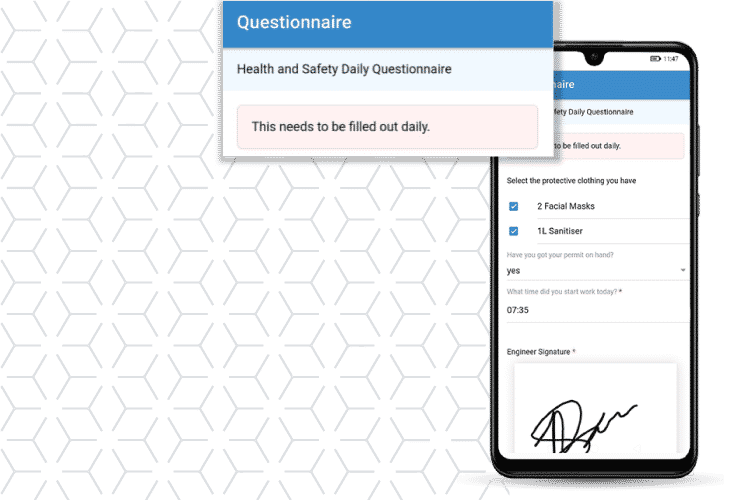 Create Questionnaires For Client Feedback
You can set up questionnaires for your clients to fill in on-site and sign off jobs. The questionnaire feature helps ensure that service standards are being carried out in the field. Your business can benefit from including customer engagement by asking them to rate your services.
Clients can answer questions about the service and enter their signatures on the Mobile App. You can create customised questions for your staff and customers, with several input values like checkboxes, drop-down lists and signature or text fields.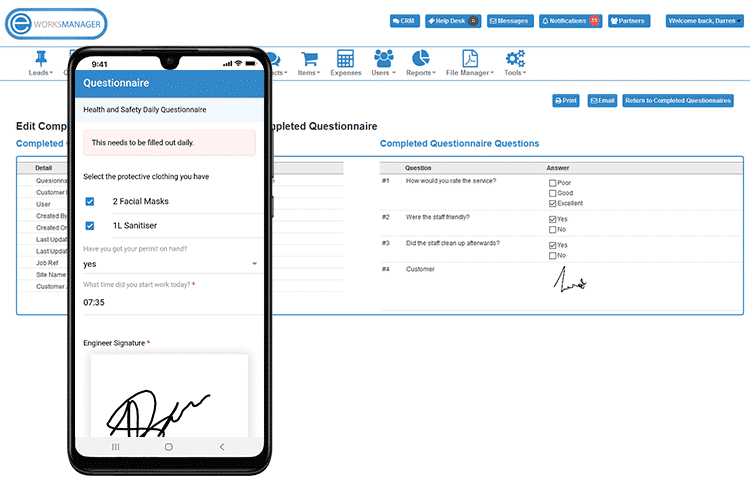 Create Questionnaires on The System
Set up a Questionnaire type and name
Include a description for mobile users and client to read
Select which users or customer you require the questionnaire to be completed by
Select the job appointment and status type you want to assign your questionnaire to
Set questionnaires to mandatory
Include up to 10 questions for each one
Preview how your questionnaire will appear on the app
View all the completed questionnaires within the CRM dashboard on the admin system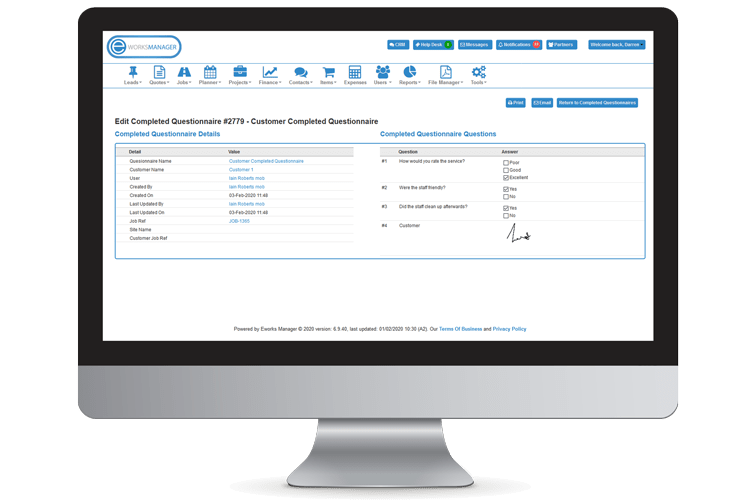 The Complete Business System
Some additional features that would benefit your business
Field Service Questionnaire FAQs
1Can questionnaires produce qualitative evidence or data?
When setting up a Field Service Questionnaire, you can create open and closed questions to gather information, that will result in getting more detailed feedback from your mobile workers and/or customers.
Questionnaires can help support service quality, and customers' feedback can give valuable insights for your business.
2Where can my workforce access questionnaires?
The questionnaires are set up on the admin system. From there, your mobile users can access the questionnaires on the Eworks Manager Mobile App. Your field service questionnaires are attached to your selected jobs, and can be filled in on-site.