Manage All Your Employees Contracts, Holiday Schedule and Working Hours in Our Management System. For a 14-Day Free Trial, click here!
Employee Management Software
Eworks Manager is the ideal employee management software for your HR department, as you can easily manage all your employees' information and documentation within
one system
.
With our management software, you can conveniently keep in touch with your staff by sending them messages, assign them tasks with our
Task Center
feature and set
triggers
for when a job is assigned or complete!
You can also manage your staff effectively with our
Time Planner
feature on the
admin system
. As well as access a full view on what your
mobile users
and office staff have scheduled for the day. By having a full view of their planners, you can plan maintenance more efficiently and boost productivity.
With our colour coding, you can quickly determine the status of all jobs on the fly. For example, Red is cancelled, Orange is on hold, and Green is complete. All unassigned jobs will appear on the right-hand side of the Time Planner. You can simply drag and drop jobs into your mobile worker's planners, prompting them on the mobile App to accept.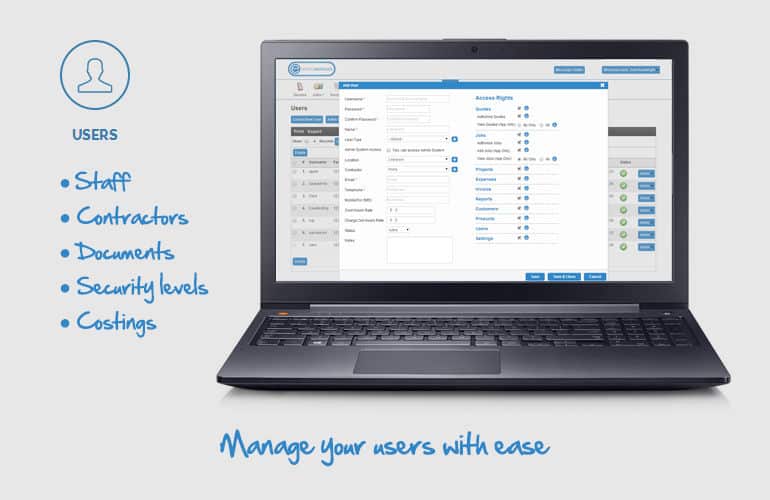 The
geo map view
lets you view where all your workers are, so that you can find the closest field worker to an appointment when receiving a job request. You are then able to see if this person is available and then assign that job to them. If they are not available, you can contact the next nearest and available field worker.
The Reports Available on Eworks which could be Beneficial for Your HR Department:
User Time-Sheet Report
Job User Report
Job Summary Report
User Profit Report
Invoice Summary Report
Holiday Report for Users
Listed above is just a handful of reports our system can produce. We also have reports for your customers, quotes, purchase orders and products.
Unlike most Field Service Management Software, we provide continuous
support
to all our customers. If you have a question, require additional training on the admin system or the app or require some modifications, we are always here to help with our 24/7 support email and our fantastic customer service team.
Eworks Manager offers many company benefits, and above is just one feature. So if you're ready to ditch the paperwork and start your Eworks journey, sign up for your
14-day FREE trial
and try it out for yourself!
If you would like to get in touch and find out more about our
Employee Management Software
, please feel free to call our office directly or drop us an email. We would love to chat and book you in on a free online demonstration of the software!
Call us: +61 (3) 9008 9902
Email us: [email protected]