We have the Ideal System For Domestic And Industrial Commercial Cleaners. Create, Manage and Assign Your Jobs Efficiently. For a 14-Day Free Trial, click here!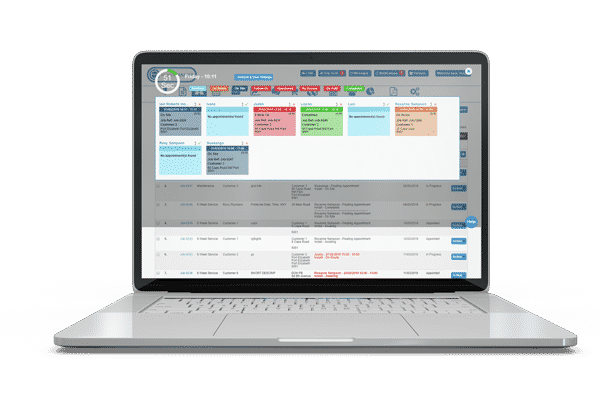 Cleaning Management Software
Eworks Manager's Job Management Software is a perfect addition to any Cleaning and Hygiene company. We offer a fantastic job system software that will transform the way you manage your finances, assign jobs to staff and track their progress.

Our software enables you to create quotes, convert them to jobs and assign them to a Cleaner, who will receive the job on their mobile device via our Mobile App. You can then use the system or the app to track the progress of the job. The office admin can view Images the cleaners have uploaded of the completed work and view any notes the user has made. Customers can sign digital documents and invoices can be sent immediately once the job is complete.

When using our Job Management Software, you have the ability to track your cleaner's time spent on each job through the Mobile App. With a few clicks of a button, field staff can keep you updated on the status of the job they are busy with, from "Accepted" to "On Route", "On Site", and "Complete". The App also shows the time and Geo-location of when and where the status changed.

If you want an overview of your staff's timesheets, you can use the Reports Feature, which automatically captures your employees time spent on every job. The Reports feature also allows you to view detailed reports on quotes, jobs, invoices, users, products, purchase orders, and more.

You can create Recurring Jobs for customers who use your services regularly, on a scheduled day and time. All you need to do is create the job and set a recurrence rule. This rule will then automatically schedule the jobs into the Eworks Planner. Lastly, you will need to assign the job to the cleaner. This saves you valuable time as there is no need to create the same job repeatedly. Another feature we offer is the CRM, or Customer Relationship Management, feature which allows you to capture any calls, emails, notes or complaints against a job. This way, your business can keep track of all of your customers' history.

Eworks gives you the ability to personalise your system according to what you offer as a business, and what features you would need to use within your business, which makes us the best cleaning business software. You can create custom checklists and allocate stock and assets for the job. For example, a hand soap dispenser or a vacuum cleaner, is assigned to a job with a specific client allowing you to keep track of the materials and equipment being used. Admin is far more efficient with the Eworks Manager system due to digitisation of older important documents you may want saved on the system, so they will never get lost in all the filing, and you can have them on hand whenever you need them.

Unlike most job management software, our customers are our priority. We provide any support you need from us, whether you have a question, need additional training on the admin system or the App, or require a bespoke modification, we are always here to help! Our customer service team are always happy to talk you through the system, and we have 24/7 support email. Eworks Manager offers many company benefits and is an all-in-one system, so if you're ready to ditch the paperwork and start your Eworks journey, sign up for your 14-day FREE trial and try it out for yourself!

If you would like to get in touch and discuss our software further and why we think it could benefit your business, please feel free to call our office directly or send us an email. We would love to chat and book in a free online demonstration of the software, so you can see why we are the leading Job Management Software for yourself!


Call us: +61 (3) 9008 9902
Email us: [email protected]