Schedule new work on the move and allow your staff the opportunity to generate automated job sheets ahead of time. For a 14-Day Free Trial, click here!
A Full-Featured Appointment Scheduling App can help you Manage and Streamline your Whole Organisation from Beginning to End.
A Full-Featured Field Service Dispatch App to Streamline the Workflow of your Entire Team.
When it comes to arranging tasks for yourself or a co-worker, the Eworks Manager Field Service Dispatch App offers you two choices. The first option helps you plan a job for yourself or conveniently schedule it for another worker while you are occupied with other activities. The second option is to assign a task to your administrators. You can build the task, but the App will send it to the office to be assigned to an available worker. The Mobile App helps you record a timesheet of the work undertaken and time spent on-site if there was an emergency job that you had already finished. This means that any job that needs to be finished or has been completed is monitored and accounted for.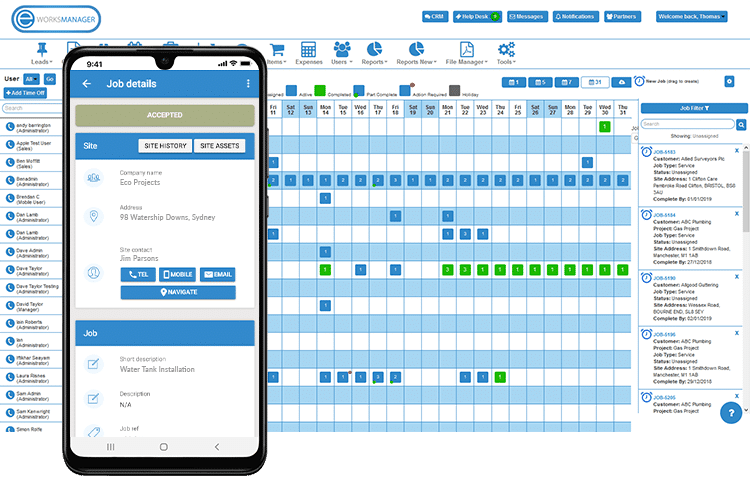 Easily Track and Manage Your Jobs in Real-Time
Since all your information is stored in one system, even though employees have their own devices, means several jobs may be managed and recorded at the same time. This allows your employees to keep track of every task without losing track of them or misplacing job sheets. When your employees use the Mobile App, the office can display all of their activities in real-time. When the status of a task is changed, they can even see where the worker is. You can also see where workers are in the process if they are still busy.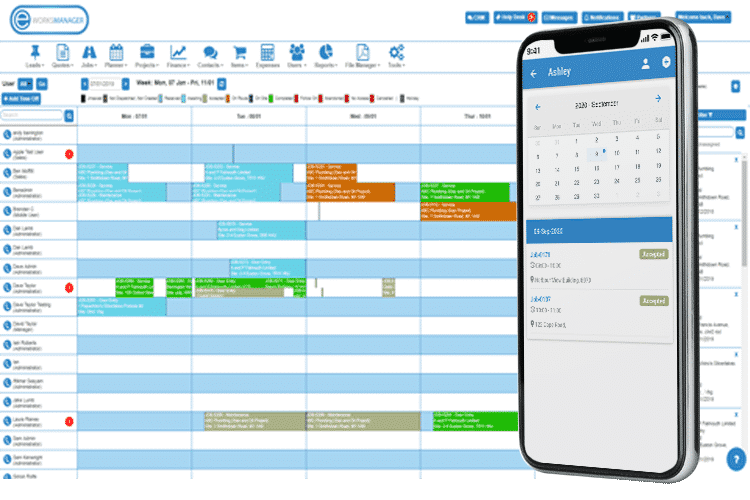 Complete Digital Job Sheets from the App
Directly from the App, you can add photos and job descriptions to tasks. The notes added on the job sheet appear in the job history and on the job sheet. For approval and authentication, all tasks have an approval capture on the App. If a job is done, the system enables you to submit it straight for billing.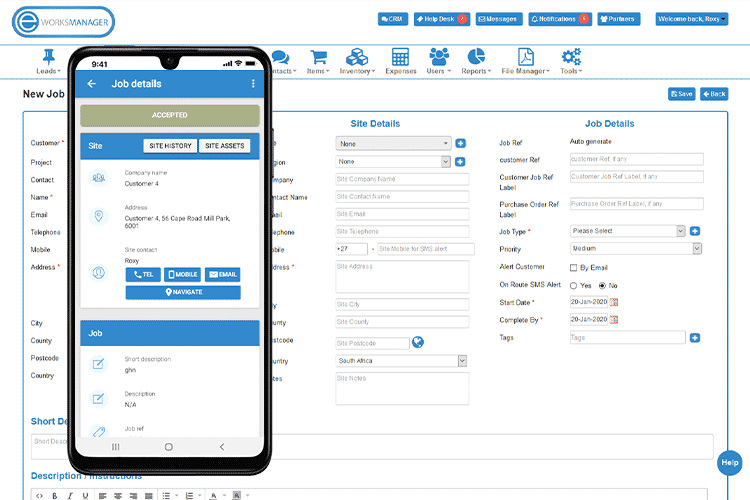 Plan and Track Your Daily or Weekly Schedule with our Time Planner
When tasks are planned using the Appointment Scheduler, the Time Planner on the admin side is automatically updated. This provides the admin team real-time access to the work scheduled through the App. The Time Planner's colour-coded sections display a graphic depiction of jobs and their status, such as On Route, On-site, On Hold, and so on.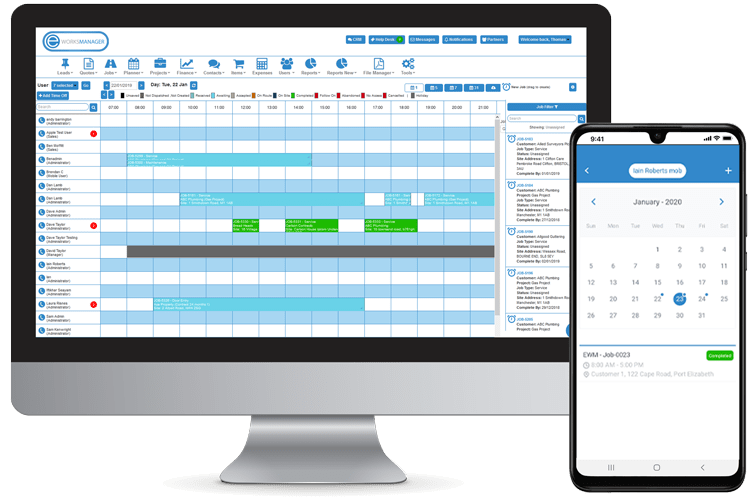 Keep Your Office Updated in Real-Time with our Live Panel
With the Live Panel, you can keep an eye on your employees' work in real-time. When a worker changes the status of a task, the colour-coded blocks refresh. You can mount a monitor in your office and see each job's state at a glance, thanks to the Live Panel.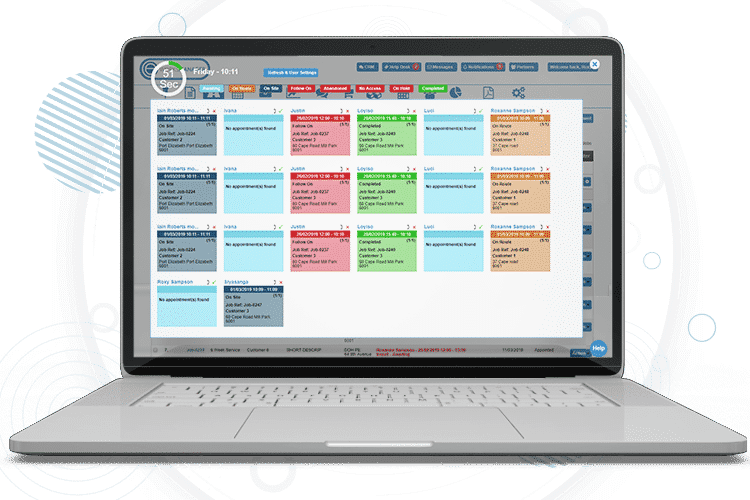 Sync Your Work Schedule to Your Mobile Calendar
Our Employee Scheduling App calendar functionality allows your employees to see everyone's schedule for the month. That way, they can quickly see their availability if they need to plan a job for themselves or a co-worker.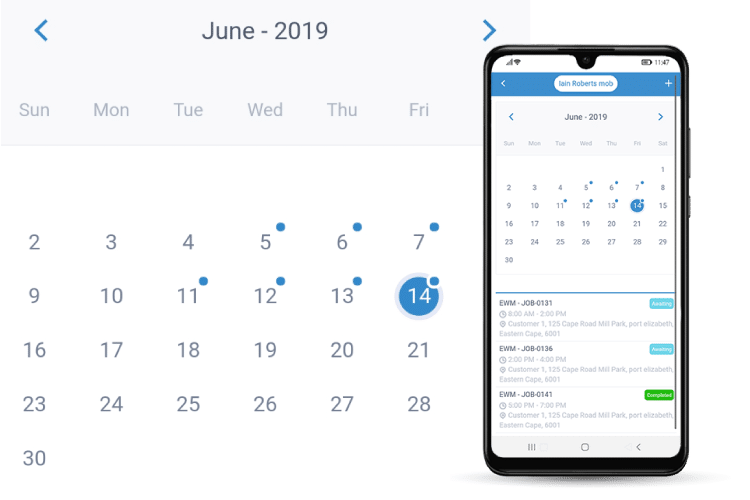 Keep Track of Efficiency with Detailed Job Reports
All work-related data, such as job value, travel time, on-site time, and so on, are immediately applied to the administrative system's various reports. This eliminates the time-consuming manual task of measuring job profitability and efficiency and ensures that you're getting reliable data for company or customer reporting.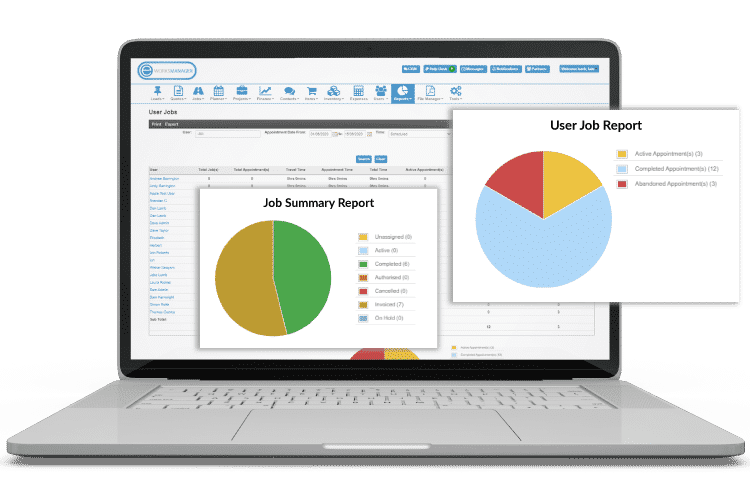 The Complete Business System
Take a look at some of our other great features that would benefit your business.
Scheduling App FAQ's
1What is a Scheduling App?
Appointment schedulers are web-based business applications that help clients to plan, reschedule, and cancel appointments. When customers try to schedule an appointment, they go to the Customer Login Portal and choose a date and time that works for them.
2What is a good application for scheduling appointments?
Eworks Manager offers various ways to schedule your field workers, from Time Planners to live Geo Location Planners. We also offer a Smart and Auto Planning feature which removes the hassle of trying to figure out who the best technician would be to assign to an emergency appointment. These features make Eworks Manager and our Mobile App a cut above the rest.