Monitor Your Purchases, Your Van Stock and Control Your Warehouse All in One Place. For a 14-Day Free Trial, click here!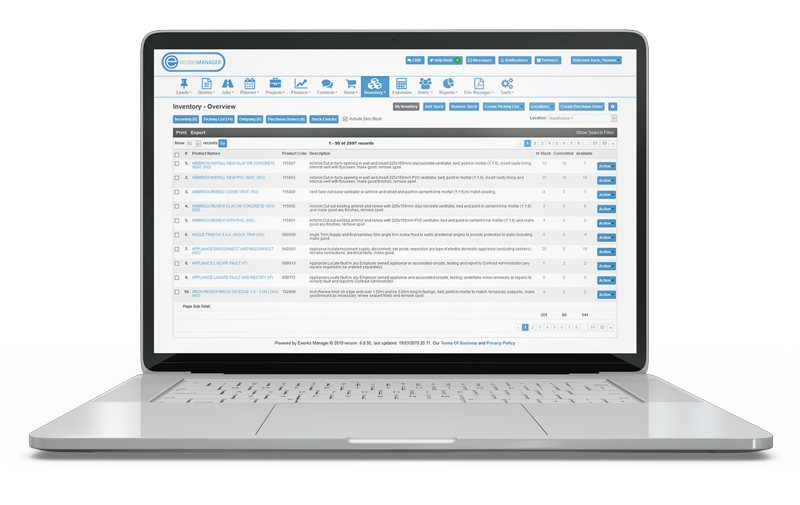 Stock Management Software
How a Stock Management System Can Help You Manage your Stock and Inventory
Eworks can help you manage your business's stock levels and inventory that may have been moved off-premises. Effortlessly manage what you have in stock, what has been committed to jobs in progress and what you have available. Our stock management software will also help you prepare for jobs, knowing what stock is needed for upcoming jobs.
Easily Manage and Monitor your Warehouse, and Van Stock
By using Eworks to manage and monitor each of your Locations, stock replenishment becomes an easy task. With total stock and stock value visible for each location, your staff will know exactly what stock each warehouse or Mobile Location has - minimizing the events of over-stocking or under-stocking.
Processing Purchase Orders
Our system keeps a record of all your Purchase Order information, whether it be ordering stock for a job or a location. With Eworks' Stock Management System you can capture partial deliveries and Invoices from your suppliers. This will ensure that you have all the stock you ordered. Tracking ordered stock also becomes easy with our software. Select the location from a drop-down, which automatically updates the location's stock count and inventory levels.
Move or Transfer Stock from One Location to The Next
When stock assigned to a job is not available in the field engineers van, the system will automatically generate a picking list for the worker to collect from the warehouse. The office admin can easily create picking lists to move stock from one location to another. This way, the system can adjust stock values for each location and keep a full history of stock migration.
Keeping a Full History
Eworks keeps a full history of picking lists are created for locations, stock ordered from your suppliers or when staff add or remove stock from specific locations. This allows you to refer back if any issues arise around stock.
---
Van Stock
Manage all your van stock and top up as required.
Warehouse Stock
Have multiple warehouses and track your stock levels
Monitor Purchases
Easily purchase new stock from low levels and for job specific requirements.
Reports
Monitor what is being used and who is using it.