Managing your employees and scheduling their jobs with ease
Employee Scheduler
Employee Scheduling - Eworks Manager
Our Employee Scheduler can create Your Schedules on the fly
Schedule easily and quickly with our simple yet most powerful & flexible yet easy-to-use scheduling software for your employee management. Automatically create unambiguous schedules, copy shifts, import employee schedules and do more with our web-based software.
Collaborate with your Team / Employee's
Let employees set their own available time and deal with your business management process. Managers are spending up to 80% of their time formerly in creating and sharing scheduling duties to their team.
Employee Scheduling Never Gets Easier Than This
If you want to drag a worker onto a defined shift or want to move a shift to a new desired date - everything in our software is visual & easy to understand, meaning you'll spend less time managing the schedule and focus more on your business goals.
Real-time Updates & Budgeting
Our employee scheduling app updates jobs instantly, that means you are saving even more work hours. We'll even show you in real time where you are over and understaffed on an hourly, daily or weekly period!
Employee Scheduler - Eworks Manager
Always Available, to Everyone
Keep up-to-date even on the fly with E Works Manager's mobile and tablet apps - with support for every major device including Blackberry, iPhone, Android, iPad, tablets, and smartphones.
Bid Farewell to Late
Avoid schedule-related attendance excuses. Having access to schedules and shift changes 24/7 along with SMS and email reminders provide employees fewer chances to misread or forget about shifts.
Conflict-Free Employee Schedules
Prevent schedule conflicts with up-to-date employee accessibility details (view instantly) & fix any conflicts due to overlapping shifts, overtime, and unavailability to name a few.
Multiple Views
Eworks Manager's member of employee scheduling online system enables you to view the schedule the way you love. Select from multiple views including daily, weekly, and monthly in a nice visual list.
Employee Scheduler
Positions & Destinations
Built-in location and position structures enable you to set up your desired accounts in the format you need. No matter, whether you have different departments/branches or a single location, our team scheduler online app can be customized to meet your business needs.
Easily Sync Your Calendar & Access Anywhere
Keep up-to-date even on the fly. Our employee scheduler app can be synced with third-party applications such as Google Calendar or Outlook.
Automatic Worker Scheduling Process
Automatically create unambiguous employee schedules in few seconds. Once you complete, you have the time to verify and make any important changes before publishing it.
Unlimited Schedules on the go
Easily create & maintain various personnel staff schedules with desired settings for each team within your organization.
Numerous Employee Schedulers
Have many branches in your business that manages various schedules? Not an issue - with Eworks Manager you can enable individual workers access to their desired schedules.
Call us: +61 (3) 9008 9902
Email us:
[email protected]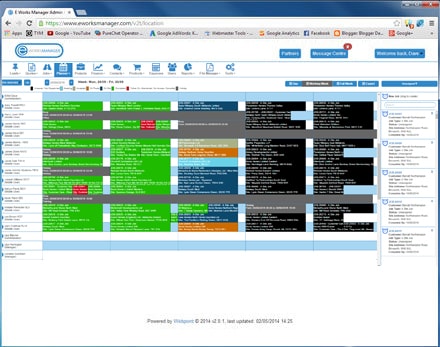 ---