Have Full Control. Create, Manage and Assign Your Jobs Efficiently. For a 14-Day Free Trial, click here!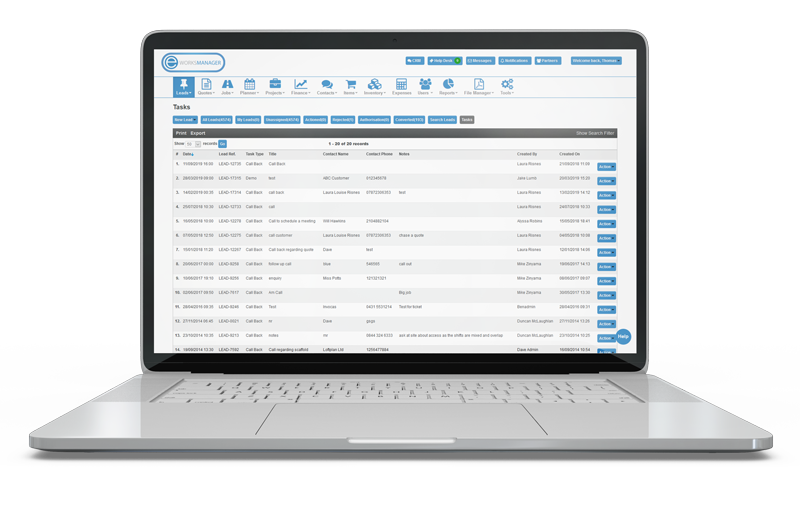 Re-active Jobs
Eworks Manager's App can notify your team about new jobs, while they are out of the office. The Geo planner feature allows you to plan jobs, and your team will be able to view the latest jobs and their exact location. We also offer a Vehicle Tracking feature, where you can live track your drivers on the job using our all-in-one system.
Planned Work
The job planner helps staff schedule new jobs on their desktop, mobile or tablet. The timesheets feature allows your team to create digital timesheets for each job in advance and also allows editing of timesheets on the move.
HVAC
Eworks Job Management Software is great for trade and service industries, like HVAC companies. Our software will revolutionise the way you do business by organising all of your jobs, customers, finances and more. The system enables you and your customers to log and plan jobs, monitor inventory, track your vehicles, monitor employees in real time and much more.
Management
The timesheet feature allows your team to take before and after photos of each job on the App. This can be used for management approval and evidence of work. Customers can create support tickets, that send notifications to management before and after jobs are completed. The timesheet feature shows you how long a job has taken and how many hours your staff have completed. This makes calculating staff wages a lot easier. Eworks gives you the ability to personalise your system according to what you offer as a business, and what features you would need to use within your business. You can create custom checklists and allocate equipment and assets for a job.
Unlike most
field service management software
, our customers are our priority. We provide any
support
you need from us, whether you have a question, need further training on the admin system or the App, or want a bespoke modification, we are always here to help! Our customer service team are always happy to talk you through the system, and we also have 24/7 support email. Eworks Manager offers many company benefits and is an all-in-one system, so if you're ready to ditch the paperwork and start your Eworks journey, sign up for your
14-day FREE trial
and try it out for yourself!
Call us: +61 (3) 9008 9902
Email us: [email protected]