Field Service Software that assists you in managing and maintaining the glazing and window installs. For a 14-Day Free Trial, click here!
Double Glazing Software - Field Service Management Software for Glazing and Window Installation Companies
How can Eworks Manager's Job Management Software help your Window Installation and Glazing Company?
Window installation for your customers is an important aspect of every glazing business. Furthermore, repairing or restoring damaged windows or the whole structure plays a vital part. Aside from organising the work, it's also important to make sure you have the best tools for the job.
You can add items to the system using Eworks Manager's Stock Management Software, such as window panes, glues, and other supplies. You can also include information such as costs, tax rates, and the item's location. If added, you can use them to create quotations, tasks, and invoices in the system.
With simplicity, quote clients and translate quotes to jobs
Create, print, and email quotations to your clients directly.
You can instantly convert quotes into jobs without losing any of the data you've collected.
Create a quote on-site with our Mobile App to streamline the work.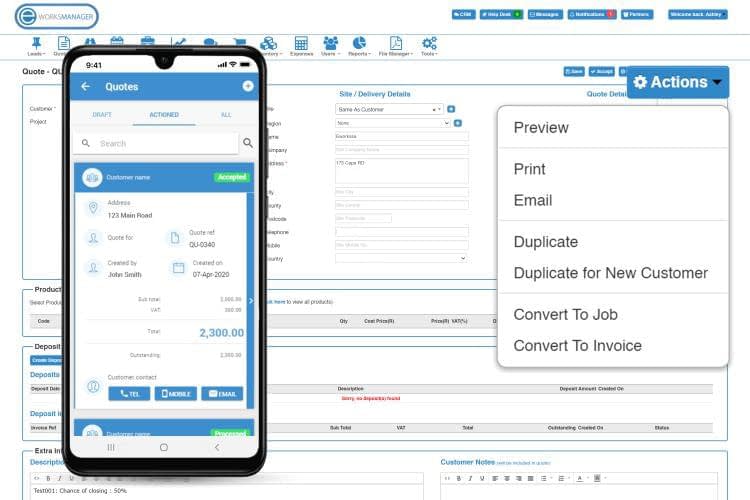 Route Planning helps you to spread work out in a cost-effective manner within seconds
You can assign specific jobs to staff with particular skills using the Eworks Manager Route Planning tool. The system can display the worker who can attend to the job the quickest, or the worker who is nearest to the appointment at the moment, making the appointment the most cost-effective. This saves you money on fuel and guarantees that the work is completed on schedule.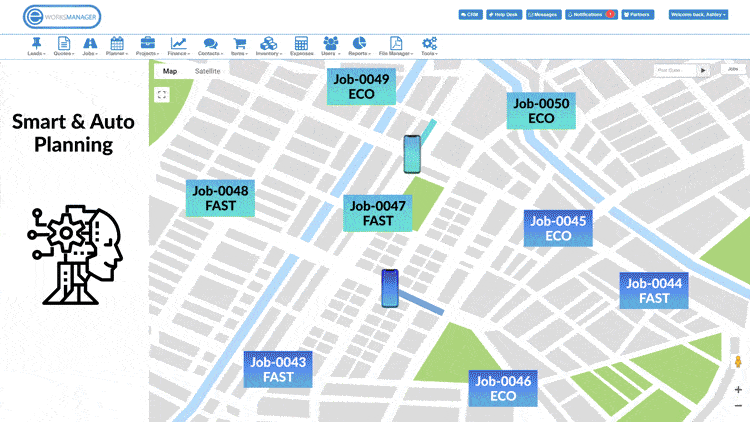 Allocate Jobs and track expenses on projects
Create jobs for a group of workers who are involved in a project together. Track the success of the projects, as well as earnings, assets, inventory, and other associated costs. We have an Expense Management system that records all of the expenses when they occur because jobs can quickly incur costs.
You can produce billable or non-billable costs, ensuring that you keep track of each job's expenses.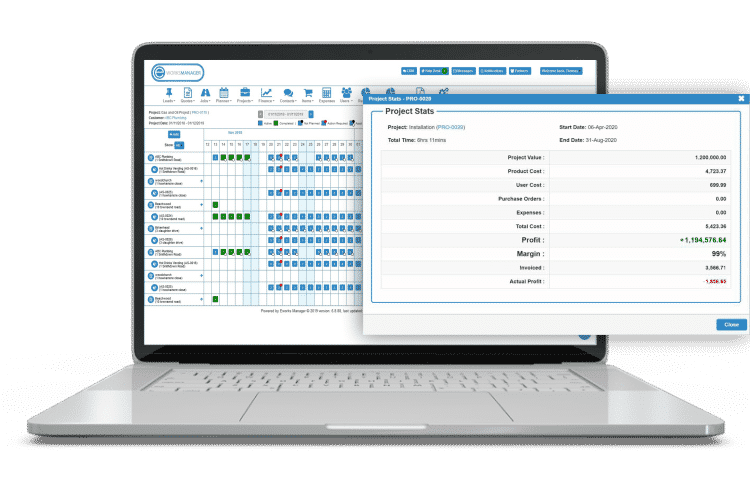 Track your team using Live Mobile or Vehicle Tracking
Vehicle Tracking and Live Mobile Tracking are two tracking tools offered by Eworks Manager that enable you to see field workers' real-time position and get automatic alerts on their work.
Vehicle Tracking also has Fleet Management capabilities, providing you with valuable statistics such as driving behaviour records, mileage, journey reports, and more.
When your employees are in the field, the Live Mobile Tracking feature keeps track of their devices. You can see which locations your employees are visiting and how much time they spend there. You'll also be able to quickly determine who is nearest to any reactive work that comes in.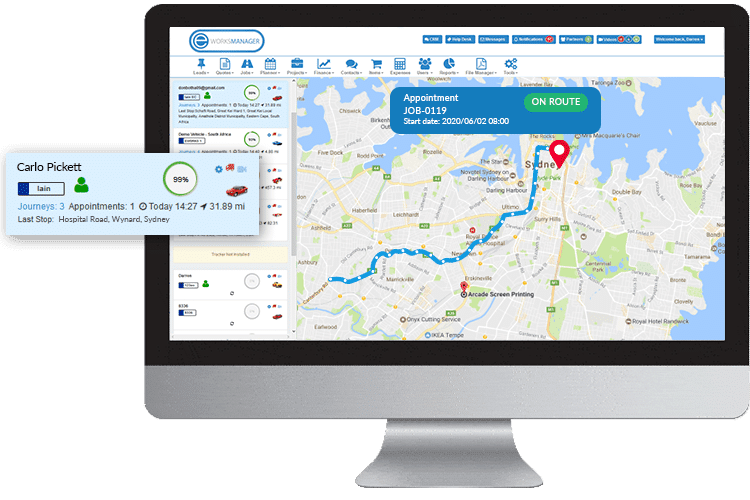 Manage the progress of invoices on projects
Once jobs are assigned to a project, you can either invoice the whole project or each task separately. You can see all of the tasks for a project in Eworks Manager's Project Management Software, monitor the status of each task, and send out invoices using the job sheet.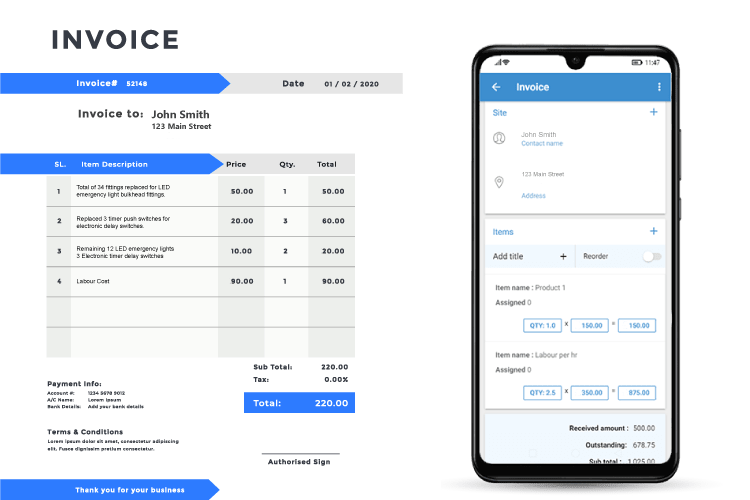 Use reports to make important business decisions
Management reporting will help you make better decisions. A growing organisation must be aware of its own strengths and limitations. This can be accomplished by analysing operational and financial statistics.
Eworks Manager, fortunately, generates comprehensive reports for you, making it simple to assess the performance reports that are most important to your company.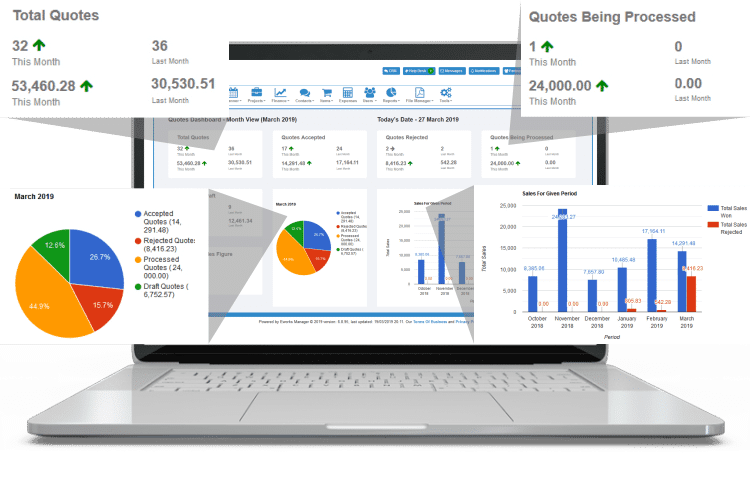 Glazing Software FAQs
1How will Job Management Software help me with my Customer Service?
You can keep track of all customer experiences with our built-in
CRM Software
(Customer Relationship Management). This is particularly helpful for your employees, as it will improve productivity and teamwork. When projects are being performed in a much more productive way, it can lead to improved sales and profitability. Any problems a client may have will be entered into the system and resolved.
2How will Job Management Software help me with my planning?
It's simple to schedule your work with our large selection of planners. You have the option of choosing which planner fits well for you or using a selection of planners based on the situation. Our Time Planner helps you see your employees' schedules and allocate work to those that are available. Our Geo Planner provides you with a live map that allows you to locate the nearest mobile worker to any reactive jobs.
3How can Job Management Software keep my customers informed?
You can schedule alerts to be triggered based on your employees' actions using our personalised triggers. Customers can be notified when a task is created, when employees are on their way to site, or when the job is completed. All triggers can be fully customised to meet the company's and customers' needs.
4Can Job Management Software help me keep my paperwork in order?
Many of the business processes can be collected in one location, on a cloud-based digital platform, and our
Double Glazing Software
is an all-in-one kit that includes
mobile documents
. This ensures that all of the documentation has been digitised, giving you access to a complete company history with all operations.