Using our web-based scheduling system, you can build an automated schedule for your employees. For a 14-Day Free Trial, click here!
Employee Rostering Software - With our Staff Rostering Software, you can increase productivity and efficiency
From start to finish, our Full-Featured Planning System will help you manage and streamline your entire business.
Managing the schedules of your field workers can be difficult, particularly if you don't use Staff Rostering Software. Our built-in Time Planner and GEO Planning Feature, which includes an easy-to-use drag-and-drop function, making scheduling and assigning your staff a breeze. Our planner's calendar view lets you see all of the tasks scheduled for your entire team, giving you valuable insight into where your staff members are and how successful they are.
Our system is perfect for allocating reactive emergency jobs to your staff because you can see where they are when they are out in the field. This helps you to better manage their time and keep clients up to date at all times. You can also see how long it takes your remote workers to get to jobs, how long they spend on-site, and if their tasks are done on time. This allows for more efficient preparation and execution.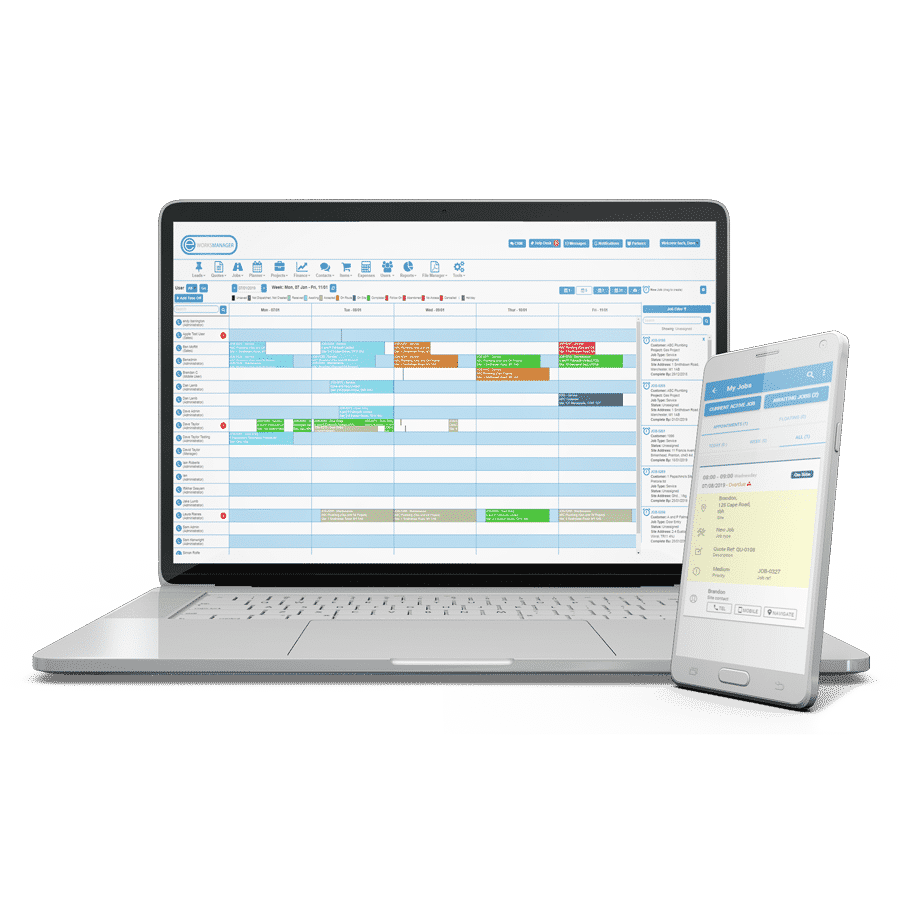 In a Single View, You can Manage the Schedules of Multiple Staff
Using our simple drag-and-drop feature, you can quickly and easily delegate jobs to multiple users. You can view your entire workforce's diary and get real-time updates on job progress while your mobile staff are out in the field. When your workers arrive, you can use our GEO Planner to see where they are at all times and delegate jobs to the worker who is closest to them. As a consequence, improved response times for reactive or emergency work that might come in during the day may be feasible.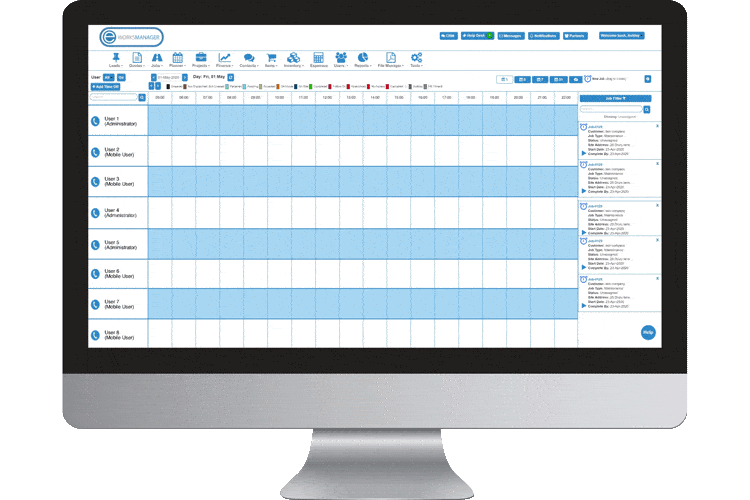 Error and Conflict-Free Planning
The Time Planner is an excellent tool for allocating unassigned jobs to available workers. Use our drag-and-drop system to see who's available and then add jobs to their calendars. When saved, our Field Service Software automatically syncs it to your employees via the Mobile App. Need to start a new job but don't know who to appoint? If you assign a job to a worker who already has a job for that time span, the system will raise a dispute alert. These Real-Time Updates allow you to easily drag, drop, and schedule an appointment into the worker's calendar.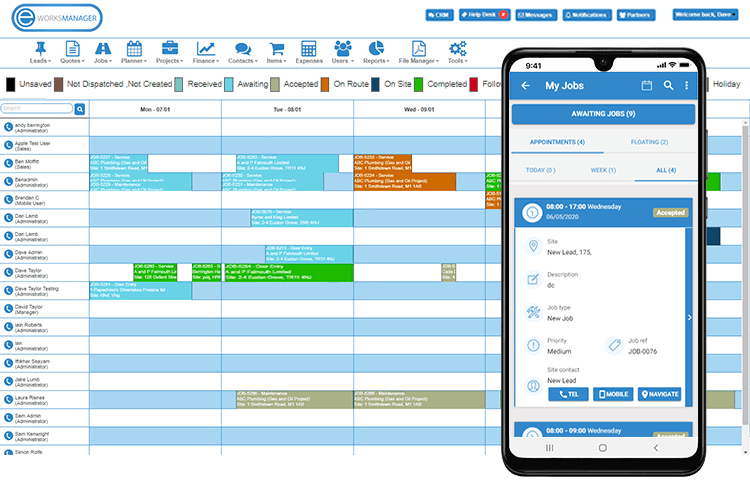 Job Progress at a Glimpse with Colour Coded Calendar
Every job status in the Time Planner is defined by a different colour. This means that with a quick look, you can see where your workers are, how current jobs are changing, and whether a job has been delayed or put on hold. Our color-coded blocks are modified in real time, so when your employees pick On Route from the Mobile App, the colour of the appointment block changes immediately.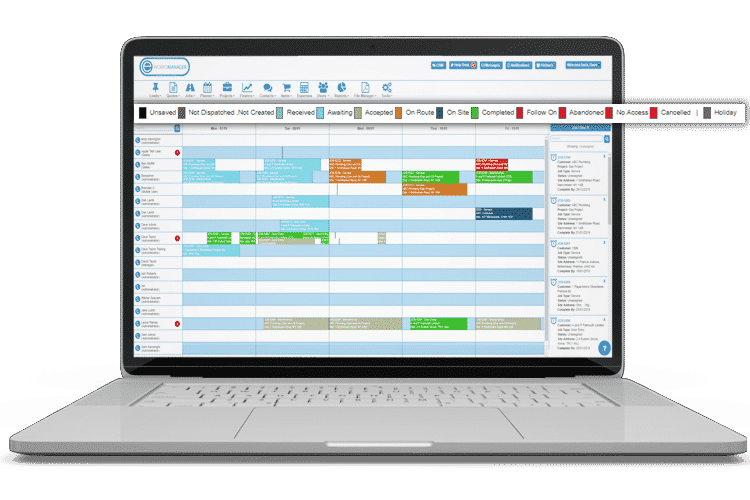 Sync Your Work Schedule with Your Phone and Take It With You
The Mobile App helps workers to coordinate their work schedules with their calendars. This allows them to easily see what job they have been assigned for the month. The job number, dates, customer details, and appointment status are all pulled into the calendar from the job scheduler. This provides information to the field workers about the activities ahead of them.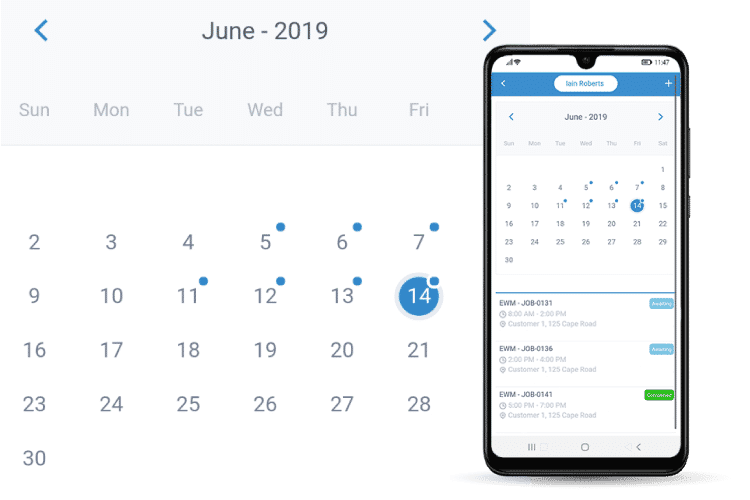 The Complete Business System
Take a look at some of our other great features that would benefit your business.
Employee Rostering Software FAQs
1What is an Employee Rostering App?
The process of creating and managing a schedule is facilitated by an Employee Rostering App. Employee scheduling can be sped up to increase employee productivity and enable businesses with teams to assign workers to jobs more quickly. This allows for more precise job tracking as well as real-time status updates.
2What can I do with Staff Rostering Software?
Keep track of where the workers are on the job and between jobs. You will get real-time feedback on the progress of each task to help admin staff schedule reactive tasks properly. With our easy drag and drop features, you can prepare your workforce with a few clicks of a button.
3Why is it important to roster staff for my business?
To keep things running smoothly, a good
Employee Rostering Software
ensures that each job has the right employees working on it. In any manual preparation, it also avoids double bookings and mistakes. This can make a big difference to customer satisfaction and ensuring that the job turnaround time is as quick as possible.