Develop & Improve Your Company's Workflow with our Business Management Solutions. For a 14-Day Free Trial, click here!
Business Management System - Grow & Improve Your Company with our All-In-One Business Management Software Solution
Manage your Business effortlessly from anywhere in the world with our Cloud-Based Business Management Software
Eworks Manager lets you run your entire business using software that you can access anytime and from anywhere. Developed with SMEs in mind, Eworks Manager has built-in systems that, together, provide the technological foundations that your improve your Business Management System.
A successfully established company requires a CRM system, work scheduling, quoting and invoicing, an accounting package, job and task management that ideally link together. To manage separate systems and add the same data into each system can be tedious and a waste of time. Eworks Manager's Business Management System is fully integrated - saving you time, money and hard work.
Our system works on your PC, Mac or Laptop, and our Mobile Job Scheduling App works on any Tablet, Mobile or device with an internet browser, and from any location allowing internet access.
With dashboards full of management information, you can monitor your team's performance and receive live job updates.
There is no software to install. Your data and system are stored securely online in the cloud and can be accessed by password from anywhere 24/7 via a web browser, tablet or smartphone.
You will never have to worry about losing your business data and files. Your database is backed up several times each day, and we safeguard the systems with firewalls, encryption and security protocols on par with financial institution security. You don't have to be an IT expert to use our Business Management System. All backups, updates and any system maintenance are provided and dealt with by Eworks Manager.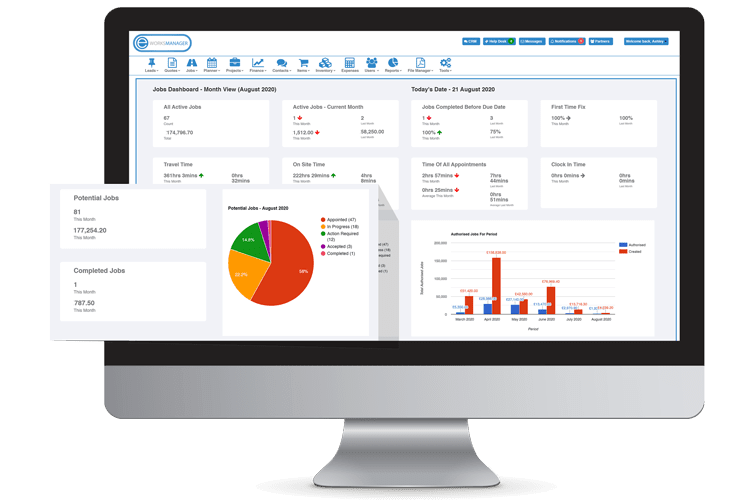 The Complete Business System
Some additional features that would benefit your business