A Mobile Work Schedule App Created For Field Service Workers and Tradies. For a 14-Day Free Trial, click here!
Work Schedule App - Your Team Can Access Their Work Schedules from Anywhere with Our Fantastic Mobile App.
Create Staff Schedules with Ease Using Our Work Schedule App.
With Eworks Manager, scheduling work for your operatives out in the field is made simple with our Mobile App. Your mobile users can manage their jobs assigned to them by either accepting or declining them, which will then be automatically updated on the admin system. All declined jobs will fall into action required so you can make quick adjustments or assigned the job to another user.
The integration between the admin system and the Job Scheduling App even allows you to create and schedule jobs in advance for your staff. The system lets you plan and know who is available to do a job as and when they happen. Your mobile users can even check other user's diaries by clicking onto the calendar feature. They can see what other jobs are in progress and who is working on each job, but the access rights can control this, so you decide what they have access to and not.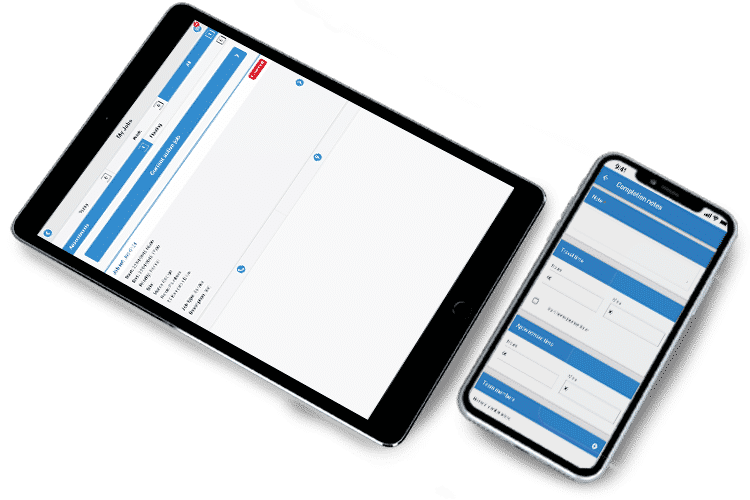 The Complete Business System
Some additional features that would benefit your business
Work Schedule App FAQs
1How does a Work Schedule App's capabilities help my business?
Eworks Manager's Work Schedule App is a great way to ditch the paperwork and have jobs and appointments sent directly to your team's mobile phones. It also enables your team to go straight to their jobs and complete it with all the necessary information on hand. The admin system manages and tracks the progress of all jobs in real-time. No paperwork, no hassle.
2How does a Job Management App help my business?
Access customer information from the app while you are onsite, and be able to pick up where you left off once you're back in the office.
View your jobs, attached documents, notes and tasks from your device.
Have simplified time tracking in the field.