How Can Eworks Manager's Electrical Engineering Software Help Electricians?
We have developed an incredible job management solution for any field service or trades businesses out there. If you want to find out more about how our software could help your electrical business, then take a look below.
Automation
Our Field Service Management Software was developed to help businesses run according to schedule, digitise your workflow (go completely paperless), and keep businesses organised and productive. We aim to automate your business's workflows and eradicate the frustrations of heaps and heaps of paperwork. Our system's scheduling capabilities are flexible and give you the chance to adapt and make changes throughout the day. Other examples of how electrical engineering software automates workflows are with invoicing, quoting, job cards and time planning, digitising compliance documents, and of course, our mobile app designed for field workers. The software operates with efficiency and accuracy, removing the burden from the technician.
Resources and Optimisation
Your resources and the way you optimise them will significantly impact your business efficiency overall. If you don't dispatch your team on time, it slows everything down. With our software, you can see where your team are in the field in real-time, what job they are working on, and you know if they are maintaining compliance. Our system also allows you to see what qualifications your technicians have so that you can assign specific jobs to them accordingly. This is just one of the several reasons why you should choose electrical engineer software for your business.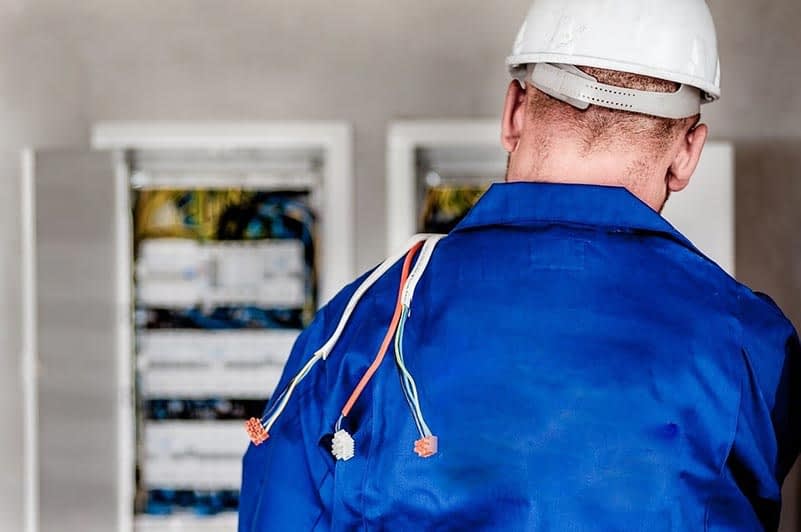 Coordination
Our software can assist businesses with the organisation of finances, and past, current and future jobs. Our CRM system simplifies processes and allows you and your customers to log jobs, plan appointments, send job SMS notifications, monitor inventory, and more. Our system will let you view every detail, from your warranties on assets, contracts, projects, and anything else you need as an electrical company. If you are waiting for a part for a fix-up job, this software will let you know when the part will arrive, who is working on the job, and how long the job is taking them. The Time Planner Feature is fantastic for planning work schedules in advance, as well as the ability to view who is busy with what at any given time.
Efficiency
One of Eworks Manager's core functions is overall efficiency. Now you can send tasks directly to your technician's phones while they are on the job. Technicians can use our software to direct them to use the most efficient route to do the job and even assign the tools they need for a specific job. Your technicians can check off tasks on the mobile app, and you will be able to keep tabs on each job's current status. The technicians can record their service notes, job information, parts consumed and more. They can also upload images against jobs as proof of work, which can help you provide a better service overall.
Improving Response Time
In the electrical industry, you will likely face multiple situations throughout the day. With a system like Eworks Manager, you will handle any situation better because your team are connected, and your system is organised. You will know precisely when a job is completed, what your team are working on, and the system allows you to react faster to incoming work or unforeseen events.
Oversight
When you have GPS tracking enabled, you can improve your field workers' oversight. You can use the system to view their precise geographic location, how far they are away from the job site and when they leave the area. Our system calculates each sparkie's time travelled to and from site and time spent on site. This is convenient for invoicing your customer for travel, stock used and labour charges. The system also ensures that staff wages are accurately calculated.
Usability
Eworks Manager's Mobile Job Scheduling App and CMMS System are very user-friendly, especially after training with our support team.
---
If you would like to find out more, give us a call! You can also check out our software for yourself by starting a
14-day free trial
!